The Letterkenny Islamic Association would like to wish all Muslim brothers and sisters in Letterkenny, Co. Donegal and all around the world a blessed month of Ramadan which will insha Allah start on Thursday the 17th of May.  May Allah accept the best deeds from us and from you.  Ameen.
As SCR Mosque in Dublin, Saudi Arabia, Belfast and most of the UK as well as most other Muslim countries have announced that Ramadan will start on Thursday insha Allah, we have decided to go with this decision as well.
We pray to Allah for unity amongst all Muslims in the future.
Please find below images of the timetable cards distributed during Friday prayers last week.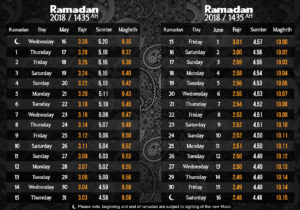 Taraweeh prayers will start Wednesday evening at 10:45 PM in the community building at the Letterkenny Community Centre insha Allah.
Please see the map to the Letterkenny Community Centre below.
The community building is the building directly to the right of the main building.  Please see below photograph.

We wish you all a blessed Ramadan Insha Allah 🙂