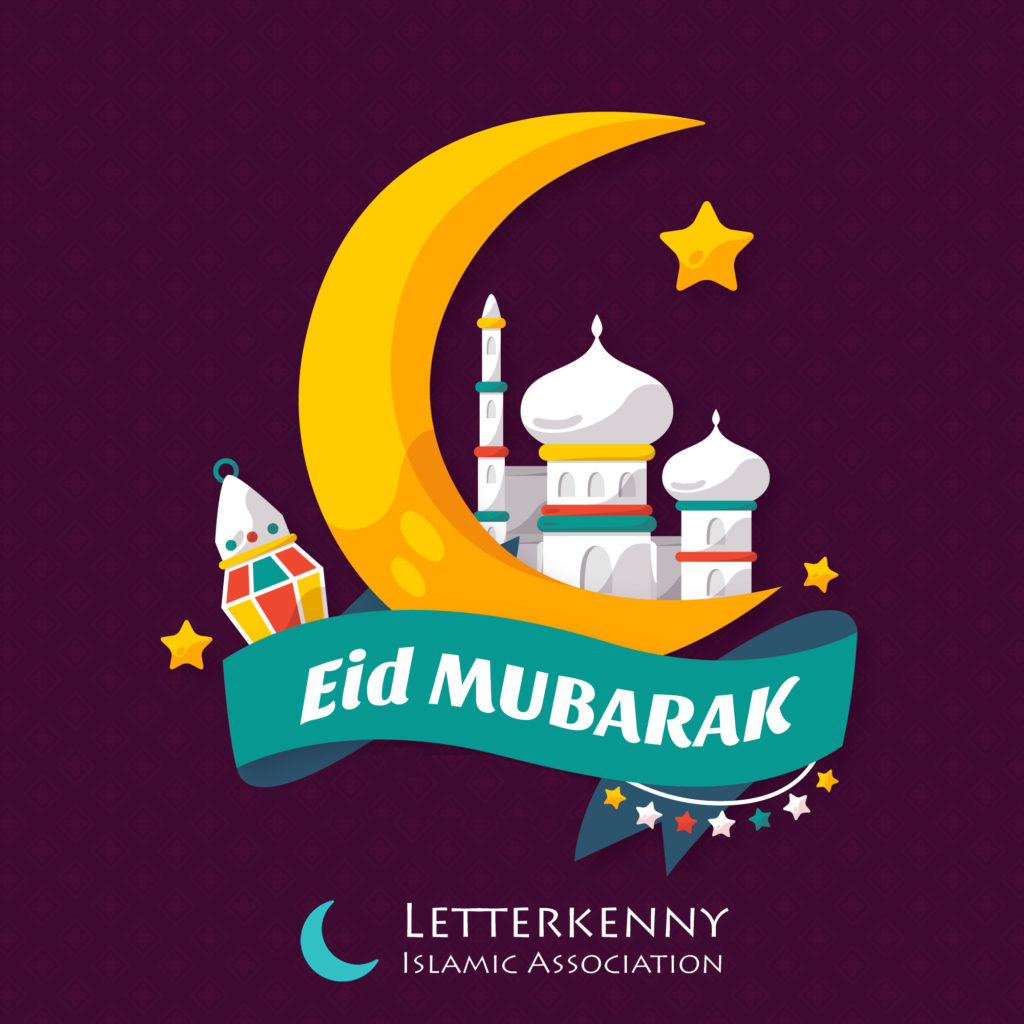 Al Salam Alaykom wa Rahmat Allah wa barakatu
The Letterkenny Islamic Association wishes all Muslims in Letterkenny, Co. Donegal and all around the world a blessed Eid Mubarak on the occasion of Eid ul-Fitr which is confirmed for Friday the 21st of April God willing.
May God accept all our deeds during the holy month of Ramadan from us and from you.
It has been a great Ramadan with Sheikh Abdalla and Sheikh Yusha and the opening of the Isa ibn Maryam masjid on the High Road! All thanks and praise are to God.
We remind all that Zakat ul-Fitr/Fitrana needs to be paid before Eid prayer is offered. You may like to donate online to any number of Islamic charity websites. Two such sites are One Ummah and Islamic Relief. Or, if you still can, you could send the money to your other home country. The Irish Council of Imams has agreed last year that Zakat ul-Fitr should now be €9 per person. You may also like to donate your Zakat ul-fitr via our bank account and we will forward it on to a charity for you. Please put "zakat ulfitr" or similar in the payment reference to help us identify the payments. Details of our account is on our donations page.
There will be Eid prayer on Friday God willing.
To accommodate numbers, there will be two prayer sessions. If the hall is full for the first session, please wait until the second session begins. Please cooperate with the ushers. Jazakum Allah khairan.
Session 1:
Hall open and takbeer begins at 7 am. Prayer at 7:15 sharp God willing

Session 2:
Takbeer begins at 8 am. Prayer at 8:15 sharp God willing.
Venue: The Vestry Hall (Eir Code: F92 TD92)
Jazakum Allah khairan.
Eid Mubarak to one and all.
Google maps link: https://goo.gl/maps/WLPpLzB1UjerUWFy9