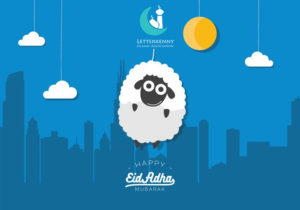 Al Salam Alaykom wa Rahmat Allah wa Barakatu
The Letterkenny Islamic Association wishes to congratulate all Muslims in Letterkenny, Co. Donegal and all around the world on the occasion of Eid ul-Adha which is confirmed for Tuesday the 20th of July insha Allah.
May Allah accept from us and from you.
Sadly, we are unable to hold Eid prayers with as many people as we can fit in the community centre as we have done in the past. Due to social distancing, numbers for Eid prayers will be limited. We shall be holding multiple sessions and registration will be performed via our WhatsApp group. If you are not in our WhatsApp group and would like to be added, please get in touch.
When performing Eid prayers, don't forget the takbeer!
The words of the takbeer are as follows:
الله أكبر الله أكبر الله أكبر، لا إله إلا الله
الله أكبر الله أكبر، و لله الحمد
God is The Greatest, God is The Greatest. There is no deity except for God.
God is The Greatest, God is The Greatest. All praise is to God.
You can listen to what it sounds like here:
Eid Mubarak!